Thank You Drive shop and Mazda for helping me experience
the drive beyond the minivan. Yes, it was free of charge, but the reality is all mine.  
I often feel that a minivan is the only category of vehicles that would give me exactly what I want – room, flexibility, functionality, and comfort. It is my ultimate house (and periodically office) on wheels with a solution to so many everyday problems. I have four changes of clothes for each child, snacks, blankets, a first aid kit, and a bag of diapers and wipes all ready to answer the next family emergency. However, sometimes I have to remind myself that keeping my options open is the only way to discover new things.
A few weeks ago we took a Mazda CX-9 Signature AWD for a week-long spin, and I have to say – we got more than we bargained for!
Most of the time our family of five needs a lot of things while traveling. My previous research showed that many SUVs with third-row seats don't have enough trunk space when the 3rd row is used. However, CX-9 surprised us with two separate foldable third-row seats and lots of cargo room. We decided to do a little bit of both and used one side for sitting and the other for freight. It also gave us easy access to the snacks and drinks and let us stay on the road longer.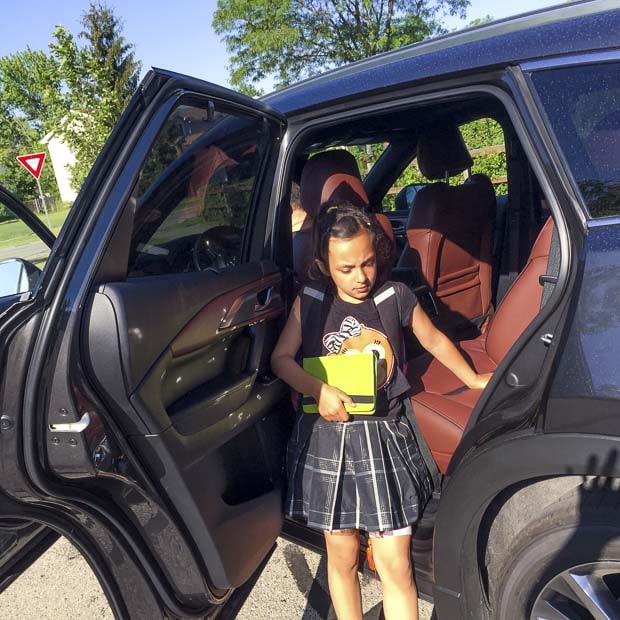 Plenty of USB charging ports strategically positioned around interior let us and our kids have our electronics working for the entire duration of the trip.
Being a minivan mom, I am used to all the practical features of my "house on wheels." However, Mazda surprised me with a combination of performance, luxury, and practicality. I loved that I could see all the most relevant information in one place, projected onto the bottom of the windshield right below my eye level. Speed, navigation instructions, alerts – all those are visible without moving my eyes away from the road.
If I could take one thing out of the car and bring into my house, it would be the seat. While it's not super soft, it is incredibly comfortable! I also loved when the car told me how much gas I have left because I am not the kind of mom who starts the day with a visit to a gas station.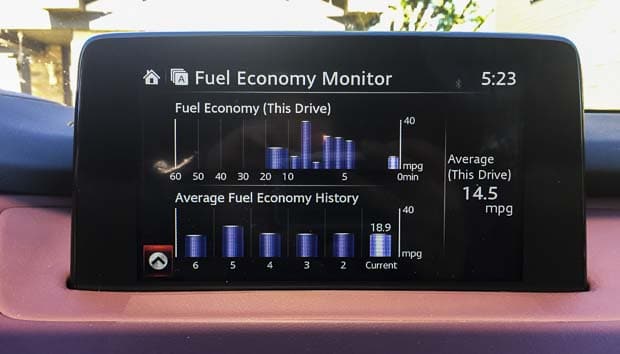 Smart Cruise Control was another cool feature. While engaged, it scans for cars ahead and will slow down if you are getting too close. However, what I haven't seen until our test drive is that it breaks as you get close to the car in front (even if some risk taker from the next lane over decides to swoosh in the right in front of you.)
Do you see motorcycles? Being a bike rider, my husband knows firsthand about motorcycle blindness. He wanted to check if the smart cruise control will sense a bike as well as it does cars. Sure enough, as we got close to a motorcycle our car slowed down – Mazda CX-9 does see motorcycles!
BOTTOM LIME
While this is a great looking SUV, it also has an impressive list of features to make it a luxury ride despite toddler meltdowns, unplanned potty stops, and countless questions.