Does your family like to camp? If so, this list of the Top 10 Campgrounds In Illinois is a great place to begin!  Camping is a fun and budget-friendly way to vacation and have fun while getting to experience the outdoors. Are you wanting to plan a camping trip soon? If you are feeling a little stuck on where to go, we have created a list for you to determine where your adventures will take you.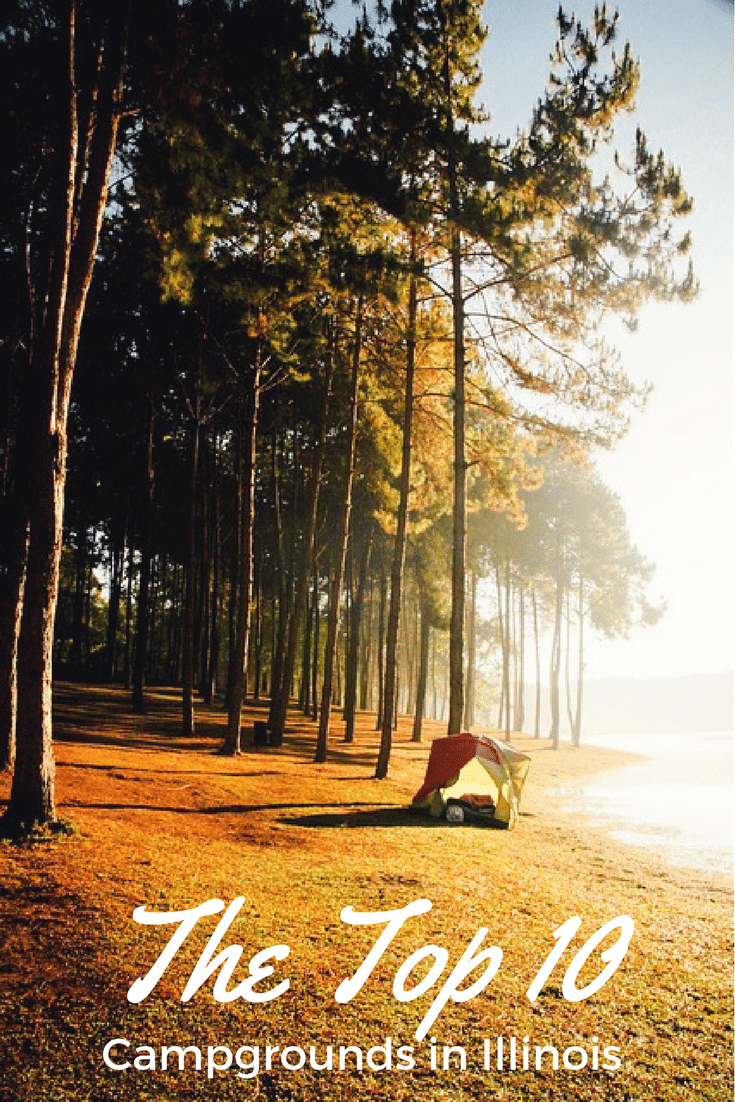 Top 10 Campgrounds In Illinois
Cave in Rock State Park (Cave-in-Rock)
With sweeping views of the Ohio River, Cave in Rock State Park provides an excellent nature filled playground for you. The campground consists of Tent and RV sites as well as cabins for those looking to stay indoors. There are miles of hiking trails, playgrounds for the kids, a fishing pond, and plenty of water sports activities available on the river.
Illinois Beach State Park (Zion)
With over 200 sites, this campground features sites for both tents and RVs. It is extremely popular during the Summer months, so reservations are highly recommended. There are two separate sections of this park and campground, both of which offer ample opportunity for swimming, fishing, hiking and more. This park is where you will find the Illinois Dunes, part of which is the first nature preserve dedicated in Illinois. If roughing it isn't your style, there is a nearby lodge available for you to stay in.  By far, this is one of the best campgrounds in Illinois for outdoor lovers!
Starved Rock State Park (Ottawa)
The Starved Rock State Park campground has been around for over a century. With over 133 sites you will find the perfect place to park your RV or pitch your tent. You will find modern amenities such as bathrooms, electricity, and showers. Because the campground is located along the Illinois River, you will find plenty of opportunity for boating, fishing or swimming. Plus there are over 13 miles of trails along the canyons with stunning waterfall views. Starved Rock has been voted one of the top attractions in the state.
Kayak Morris (Morris)
Are you into outdoor adventure sports? This is the campground for you. Are you new to camping? Again, this is the campground for you. Do you hesitate to spend too much time outdoors? This is the….okay, you get the picture. At Kayak Morris, you can choose whether you want to camp on the beach or in the woods. They also bring everything to you, literally. Don't have a tent? No worries, you can rent one and they will even set it up. They make breakfast and include Starbucks coffee! Okay, well we know this isn't your typical idea of roughing it, but it is definitely unique and lots of fun for the adventurer who loves to Kayak or bike.
Lake Shabbona State Park (Shabbona)
With playgrounds, a kids' fishing area and modern amenities, Lake Shabbona State Park is a great place to take the family camping. They even have loaner fishing poles for the kids and paddle boats for you to explore the lake in. You will find tent sites as well as RV sites and even a camp store.  If you are looking for family friendly campgrounds in Illinois, this is a great choice!
Rock Cut State Park (Loves Park)
Rock Cut State Park campground has plenty of room with over 250 campsites for both RVs or Tents, plus there is a primitive cabin that you can rent in case you want to feel like you stepped back in time. The campground is equipped with a playground and modern plumbing and amenities. If you like to adventure there are hiking trails, horseback trails and plenty of swimming and fishing opportunities. Plus, you can ice fish and ski if you visit during the winter.
Castle Rock State Park (Oregon, IL)
Castle Rock State Park campground is one of the unique campgrounds in the state as it can only be accessed by canoe or kayak. There are no other entry points. Fortunately for primitive campers, this means that this campground isn't overly populated.
Mississippi Palisades State Park (Savanna)
The Mississippi Palisades State Park campground has over 200 sites some of which are tent only. At this campground, you will find activities such as swimming, hiking, boating and more. Be prepared for a lot of beautiful scenery as well, with many steep cliffs, caves, rock formations, limestone sinkholes and more.
Giant City State Park (Makanda)
The Giant City State Park campground is popular with the equestrian crowd as they have an entire section of their campground that is a dedication to them. You will also find opportunities for rappelling, hiking, fishing and more. With the popular Giant City Nature Trail, you will come upon the large sandstone bluffs known as the "Giant City Streets" from where the park gets its name. These bluffs are over 10,000 years old, so bring your camera for some great shots. You will find sites for RV camping as well as tent camping and they even have a youth camping area.  Another favorite of campgrounds in Illinois for those who enjoy exploring in the outdoors.
Fish Lake Beach Camping Resort (Volo)
If you are looking for a trip to Six Flags, this is the campground for you! You can rent a campsite and get Six Flags Tickets too with their Chill & Thrill Packages. The campground itself has RV spaces as well as tent sites and rental units. You are close to Six Flags, but you will also find that the campground has a lot of amenities such as a swimming pool, a beach, kayak and canoe rentals and a lot more activities!
If you are interested in finding the best campgrounds in Illinois, you don't need to look any further than this list.  These are ideal for families looking for a fun way to explore the wonderful state of Illinois together.
More Travel Tips:
Beautiful Lake Towns In The Midwest To Visit
The Wisconsin Dells Family Resorts
5 Healthy Benefits Of Skiing & Snowboarding In The Midwest