Do you get a monthly box or two delivered to your house with all kinds of goodies. It sure looks like there are so many programs out there, it is hard to narrow them down to the one that would make us happy. But how about kids? I found plenty boxes for different ages from newborn to pre-teens. Crafts, baby toys, and science projects – it is all there. However, as I was going through all the options looking for something a bit different. Recently my 5-year-old daughter got her first piece of mail ever. It came from the Park District as a follow-up to the swimming class she took earlier and most importantly it had her name on it! A few weeks later she still wanted to have the envelope in her possession, and that gave me an idea: why wouldn't she get her own mail. While browsing subscription boxes I was looking for something my 5-year-old could do on his own: she does plenty of crafts during the week, and she is not quite the age for science experiment just yet. What can I find that can be interesting for her and let her do some activities on her own?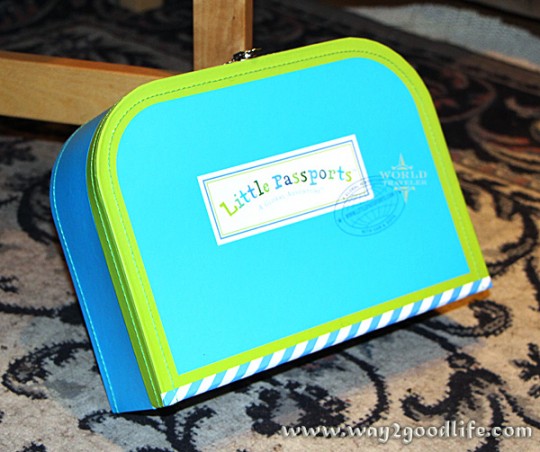 That's when I came across the Little Passports. The company was very generous enough to send my family an introductory package and let us take the Little Passport Subscription Program for a trial run.
Each month is an adventure and your child will have a chance to explore a different country and learn new things about it. My daughter just learned how to read, so she enjoyed solving the riddles, finding things on the map, and writing.
This first month of the subscription my daughter met two kids, Sam and Sofia, who travel the world riding the magic scooter. They are the main characters of the travel project and the letter sent with the package gives us an understanding how these two kids manage their international travel plans. With magic, of course! (Duh!!)
The first month's Explorer Kit arrives with a suitcase and contains everything your child needs to get started a map, a passport, stickers, access to online games, and more.
The following packages should include fun souvenirs, letters, stickers, photos, activity sheets from different countries (based on the program description).
The Little Passports program comes in two editions USA version for older kids (7-12) and The World Edition for young kids (5-10) like my daughter.
I don't know if the other boxes in this subscription will be as fun as the first one, but my daughter is definitely looking forward to the next country Sam and Sofia visit.  My next question would be 3 month subscription, 6-months, 12-months or the monthly plan?