Teachers' gifts are so much fun. For me, they are a great way to say 'thank you' and 'I appreciate you'. This Unicorn Gift Basket is a great idea that makes the ideal teacher gift! Teachers don't get enough of these things these days. Yes, we have special days for it or general holidays but, it doesn't have to be one of those special days for you to do something nice for your child's teacher.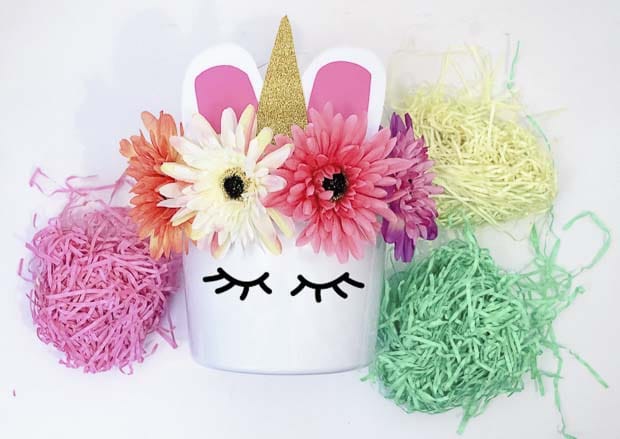 Unicorn Gift Basket for a Teacher from Dollar Store
We love shopping at the Dollar Tree or any general dollar store for crafting supplies. It makes it so much more affordable and is tons of fun to stock up on fun things. Not only can you pick up fun craft supplies, but you can add simple gifts to the basket by picking up motivational books, hand lotions, candies, and other little items that will come in handy for a teacher year round.
Supplies for Unicorn Gift Basket Teacher Gift
White Basket
Black Sharpie
Fake Flowers
Pink Foam Paper
White Foam Paper
Gold Sparkle Foam Paper
Super Glue
Scissors
Grass & Goodies!!!
Instructions
Take your gold sparkle foam paper and cut out a unicorn horn. I suggest cutting the horn on the larger side. That way if you do need to resize, all you need to do is trim rather than cut a brand new horn.
Time for those ears. Grab your white foam paper and cut two ears.
Then take your pink foam paper and cut the middle section of the ears.
Once you have white and pink ear sections, glue them together to make the perfect unicorn ear!
Grab your super glue and flowers. Glue the flowers on the rim of the basket.
Next, glue your horn onto the basket followed by the ears.
It's time to draw on those eyes! Take your sharpie and first practice on a blank piece of paper to perfect your technique. Once you have your technique mastered, draw on those eyes and eyelashes. Sharpies are permanent so make sure you're ready. You only get one shot!
Now you are ready to fill your basket with the Easter grass and all those Easter goodies!!!
And it's ready!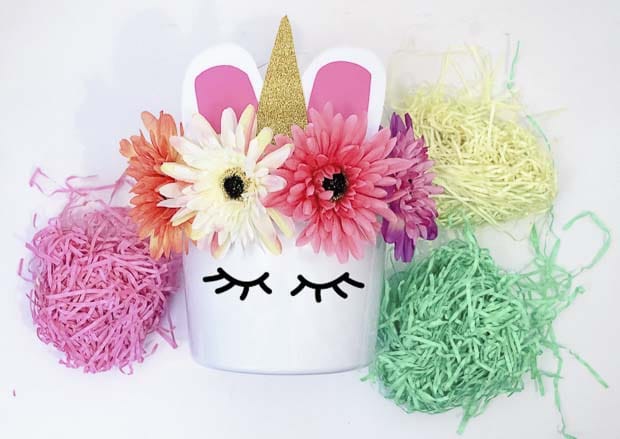 Here are more fun gift ideas for teachers that are good any time of year:
Coffee Lovers by Fun-A-Day
Gifts for Multiple Teachers by Extremely Good Parenting
Candy Pencils by Mrs. Kathy King
DIY Magnetic Clothespins by Sandy Toes and Popsicles
Appreciation Flowers by Everyday Savvy
Teacher Appreciation Gift during Cold Season by B-Inspired Momma
'Thanks for Making us Smarties, You're A Lifesaver' by B-Inspired Mama
Pencil Flowers by Jamonkey
Succulent in a Mug by Honey and Lime
Cookie in a Jar Gift Basket by Building our Story
First Month Down by That's What [Che] Said
Iced Tea Cup by Everyday Savvy
SupHERB Spring by Stuffed Suitcase
Just Say Thank You by Fun-A-Day
Cute and Easy by Mommy Bunch
Homemade Teacher Appreciation Gift by Thrifty Jinxy
Plastic Bottle Appreciation Gift by Mrs. Kathy King
Reese's Pieces Jar by See Vanessa Craft
Simple Appreciation Gift by 2 Paws Designs
Key to my Success by Mama Cheaps
Watering Can Teacher Gift by A Mom's Take
DIY Chalkboard by Bullock's Buzz
Dollar Tree Gift Basket by Masshole Mommy
As you can see, a great teacher gift is just what you need to start the school year off correctly. You can help your child's teacher know they are appreciated any time of year with our unique Unicorn Gift Basket idea!
More Back to School Tips:
Getting Organized for Back to School
Back to School Brain-Boosting Food
Back to School Time Savers for Moms
Back to School Time Management Ideas
7 Brain-Boosting Breakfasts for Back to School
School Clothes Every Child Needs