(That Engages the 5 Senses, and Saves you Cents!)
Many of the most renowned and fruitful event planners believe that the key to hosting a successful party is engaging all five of your guest's senses.
However, many of the most renowned and fruitful event planners also have thousands of dollars at their disposal with which to do so. But not to worry, moms!
If you follow these budget-friendly tips and ideas, not only will you be the coolest house on the block, your child will be so tuckered out from Valentine's party activities, that you may even find yourself with quiet time to spend with your grown-up sweetheart!
Taste
A party without yummy food is no party at all! For the main course, try a build-your-own heart-shaped pizza station. The kids will feel a sense of accomplishment that they created their meal, and fussy eaters won't have to pick off anything they don't like.
Purchase some ready-made pizza dough and set up each child with a pan and the rolled-out dough. Pinch the bottoms and shape the top to form a heart shape.
Next, have everyone use spoons to spread sauce on their pizzas.
Place large bowls of shredded cheese on the table, as well as smaller bowls of pepperoni, sliced veggies, and any extra toppings you'd like.
You can bake the pizzas while the kids are busy with other party activities. The approximate bake time will be 15-25 minutes.
For dessert, the build-your-own theme continues. Before your bash, make (or buy) plain heart-shaped sugar cookies. Set them out along with frosting and an assortment of festive candies, sprinkles, and colored sugars. Cover the workstation in wax paper, and let the creativity flow!
Want a cheap and chic way to send your guests home with a treat? Place extra decorated cookies into cellophane bags and tie the top with a beautiful pink ribbon from the dollar store. Voila!
Sound
"LOVE" is one of the most favorite song lyrics of all time, you shouldn't have much trouble creating a playlist loaded with warm fuzzy classics. Don't feel like doing it yourself? This site has free Valentine's themed playlists, including everything from "Modern Love" to "Country Love."
Touch
Classic hands-on party games can easily get Valentine's makeover:
Pin the Tail on the Donkey becomes Pin the Arrow on the Cupid. Enlarge and print an arrowless Cupid image to hang on your wall. Just add construction paper arrows, scotch tape, and a red bandana!
Print out Valentine BINGO cards (they're free online) and use inexpensive talking heart candies as markers.
Stretch your party playlist even further by using it as music for a game of musical chairs.
Smell
Between cookies and freshly baked pizza, the aroma in your home during this gathering will surely be tempting. If you prefer a sweet aroma, fresh flowers are an inexpensive way to dazzle, and they do double duty by offering visual appeal, as well!
Sight
What costs next to nothing, can create stunning visual décor out of recycled party supplies, and is readily available in Valentine's Day colors? Glitter! This decorating project is the perfect way to create dazzling table settings on a dime. Here's what you'll need:
Craft store glitter in festive colors like red, pink, and silver
Spray adhesive
Old plastic chargers and plates, old taper candles/holders, and any additional materials you wish to cover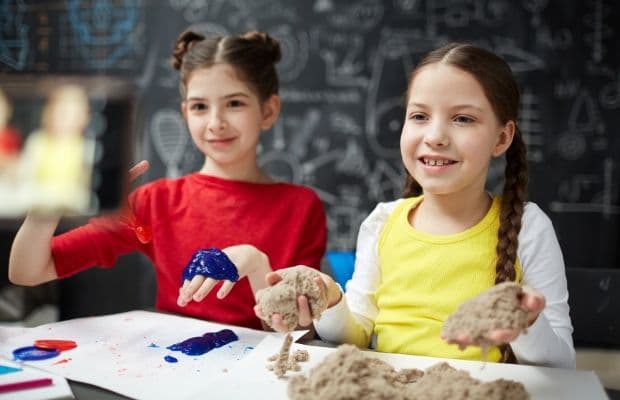 Dump glitter into a foiled plan for easy access, spray your chargers and recycled décor with a layer of adhesive. Sprinkle liberally with the glitter, rotating until your item is covered.
Be sure to do this activity a few days ahead of time, so everything is dry when your guests arrive!
Your guests will love the party, you will love the fact that you threw such an exciting party on a budget, and Cupid will love that there is so much love. Have fun!