My experience at the Palm Court was complimentary and I also got a gift certificate to facilitate this review of Palm Court. However, experiences and emotions are mine.
Every time I finish my kids' mac-n-cheese I keep reminding you that this is not the life I wanted to have. Don't take wrong – I love my kids, but mac-n-cheese out of the box is their food of choice – not mine. However, the dream life of a full-time working mom that loves blogging leaves very little time for relaxing outings.
It's embarrassing to say that I don't even know most of the restaurants in the area. It has been in this same spot for 40 years, and it has an absolutely amazing architectural structure. Yet I have never been there.
However, recently I was invited to join a group of amazing local bloggers and visit Palm Court for dinner. Join me on this trip! You might not taste much, but you will get hungry and learn a thing or two about food.
Located in the heart of Arlington Heights, Il a few minutes away from the RT53, the Palm Court is the kind restaurant older generation in the area have taken kids and grandkids for years. A few of my friends who grew up in the area have amazing memories of trips to the Palm Cort.
About Palm Court
Palm Court has been run by brothers John and Angelo Sellis for nearly four decades and now has a new owner. It opened in 1979, and you can still find vintage postcards with a view of the Palm Court Restaurant in the '80s popping up on the eBay.
Palm Court is a perfect restaurant for significant events and family gatherings with impressive 8800 square footage, sunken dining room, piano lounge, fireplace dining room, and dining hall. Yes, you heard it right – there is a piano lounge with live music playing Monday through Saturday.
Chef Michael has been with the Palm Court from its inception, and he is behind many restaurant favorites like Tournedos of Filet Mignon, Escargots, Crisp Long Island Duckling, Veal Oscar, and Provimi Calf's liver.
Chicago Bloggers Are in the House
Coincidently, in the group of bloggers sitting in the back room of the Palm Court this evening, none of us have ever been here before. And nearly half of the group lives within a ten-minute drive of the restaurant. What does that tell you? For me, it's about being busy and not looking around much when carrying on with our day.
Palm Court is a kind of place you want to take your husband on a date. This is the restaurant you want to go to enjoy your food and each other's company rather than entertaining your children.
And trust me, every one of the dishes served here at the Palm Court deserves attention. I am telling you that from the experience of sampling nearly twenty different options and I will be happy to elaborate.
Appetizers
A Jumbo Shrimp Cocktail here is served with four U-12 Gulf Shrimp that would make any shrimp snob happy. – the shrimp is poached, chilled, served over crushed ice with cocktail sauce with a dab of horseradish
Baked Goat Cheese – creamy goat cheese baked in house made marinara
Escargot en Champignon and Oysters Rockefeller are beautiful dining classics I haven't tried before. Escargot en Champignon is a dish of escargot, mushroom, garlic, and butter. The Oysters appetizer includes four Malpeque oysters topped with spinach and mornay sauce.
With so many unique items to try, I would highly recommend sharing a couple appetizers. My favorites were the shrimp and Escargot.
Salads
If you are an admirer of a fantastic salad, you have to try one of these. I bet these will inspire you to try to experiment with your own mixtures.
Walnut & Poached Pear Salad is the creation of mixed green with poached pears and walnuts. Blue cheese crumbles and raspberry vinaigrette gives this salad a unique balance of sweet and savory. Add a protein (shrimp, salmon, chicken, steak, etc.) and here you have a fantastic balanced meal.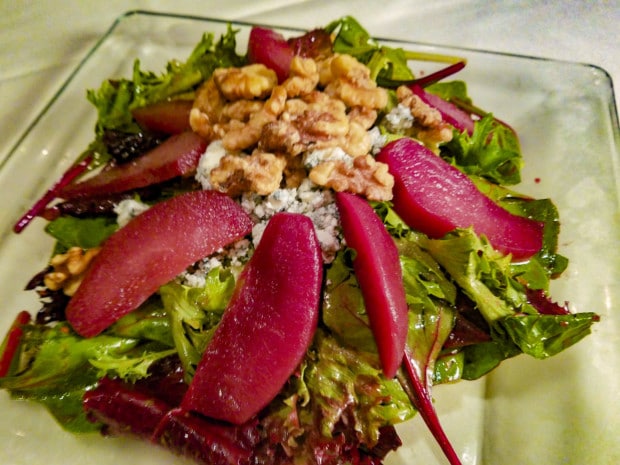 How about a chopped salad?Finely chopped crisp iceberg is combined with turkey, avocado, bacon, tomatoes, and swiss cheese and red onion. Ranch dressing puts it all together and makes it an absolute winner for me.
Seafood, Steak, and Prime RIb
I bet you couldn't wait to get to the good stuff and the Palm Court has some fantastic options when it comes to entries.
All of the steaks at the Palm Court are USDA Prime grade, wet aged for 21- 28 days, and hand-trimmed in house. The Porterhouse is an instant head turner with the sirloin (aka NY Strip) on the long side and the tenderloin that is a minimum of 2" from the bone (the filet side).
Craving Slow Roasted Prime Rib? Palm Court serves slow roasted, savory, and juicy prime rib in three size – sm(12 oz), med (16 oz), and the double cut (24 oz).
However, if you are more into the treasures of the Sea, check out this 8 oz African cold-water lobster tail. There is also my favorite – a Fried Gulf Shrimp, butterflied, breaded, and deep fried to a golden brown. And here is another temptation – an Alaskan Halibut: wild-caught Alaskan halibut, coated in crushed macadamia nuts.
I absolutely fell in love with a Berkshire Pork Chops, served with a balsamic glaze and New Zealand Rack of Lamb – a beautiful 8 bone rack of lamb, cooked to temperature, and cut into four double chops.
What's for Desserts?
Dessert is always my favorite part and today my ultimate favorite was Brandy Ice! Believe it or not, this vanilla ice cream has been hand mixed doused in brandy. It also comes with a blazing sugar cube on top which makes a fantastic presentation!
Also, look for the charity pie of the month. This month it's a Lia's Key Lime Pie. You get a perfect slice of Key Lime and the Autism Hero Project gets a donation.
Your other options include Apple Cinnamon Crisp and Cheesecake – a unique spin on classic desserts.
Have I mentioned that we tried nearly twenty items from the menu at this event? While I know, you probably want to through your fork at me, but listen up. Visit Palm Court in Arlington Heights and show them a screenshot of this post to get a free dessert. Please note that offer expires June 10, 2019!