Before we had kids, we didn't worry much about our health. But after fun 20's came "gotta stop and think" 30's. My husband went from drinking double espresso to decaf, I had to start paying more attention to my own health, and that's how we discovered neighborhood pharmacies. Kids made these trips even more frequent – bandages, tylenol, cough syrup… Our credit card statement started routinely include pharmacy category. And the charges are only getting higher. Of course, a lot of our prescriptions is covered by health insurance, but somehow, we still have pay a lot money for medication.
Recently I found out that Walgreens has a Prescription Saving plan, only costs $35 for family coverage, and might save us some money through out the year. This was worth of checking out, a we decided to stop by the store after kids had their pediatrician annual check up only block away from Walgreens. Both kids just had their shots and were not happy, but did look forward to toys we promised them for good behavior (as if!) at the doctor's office.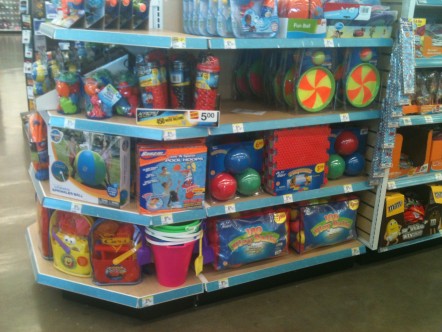 Our toy budget is under $10 for each kid, and I was honestly surprised how many options we had. My son settled on "Cars" backpack (filled with sandbox toys) for $9.99, but my daughter had a hard time figuring out what she wants. The toy she picked was "Mickey Fishing Game" – on clearance for $1.09 (can you believe it?) and she also got a Tinker Bell lantern.
I wasn't quite sure if it would be possible for me to buy prescription saving plan with kids running around the store, but the process took roughly 10 minutes, was extremely easy, and didn't require much from me.
Walgreens prescription saving plan is a secret well kept in the pharmacy near me  – I didn't see any banners or advertising of any kind. Fot the matter effect this is the only place where I found any mention of this plan.
When I asked for it, the man behind the counter seemed surprised, "Prescription Saving Club?" Looks like this plan is a relatively new thing, and the staff doesn't quite know ins and outs of processing it. I was just happy that I didn't have to fill out any forms myself and could still keep an eye on kids. 10 minutes later I had my temporary card (the real one should come within a week or so) and I was out the door with all my purchases.
Insurance I had through the employer didn't cover fertility treatment, so we had to leave A LOT of money for precious medication.
My doctor prescribed me a skin cream she thought it might help me, but according to the insurance company, skin cream is not something I really need. Well, insurance knows best, and I have to pay $40 for something that MIGHT help me.
My annual deductible is $1200 a year, which means I have to pay for my prescription medication out of pocket for the first half of the year.
But what if I won't be able to save any money with this program?
Prescription saving plan has a guarantee: If I don't save at least the cost of my prescription card membership fee in one year, they will refund the difference. It looks like I can only win by giving a try to this plan.
Money Talk
I did do my homework. I have a prescription medication I take daily, and Walgreens makes it easy for me to check my cost difference. According to this calculator I will save over $50 a year just on this medication. Try "Compare Club Pricing" tool on Walgreens Prescription Savings Club page.
One the way home everyone seemed happier.Kids were happy with their new toys and my husband and I talked about how much money we might be saving with #rxsavingsclub.
At the end of the day I am not sure who was more excited:

Me, because my next prescription will cost me a little bit less.
or my son, because he found a perfect backpack for his blanket.
or my daughter, because she adores her night light.
Learn more about this great plan on Walgreens website, Twitter, and Facebook
I am a member of the Collective Bias™ Social Fabric® Community.  This shop has been compensated as part of a social shopper insights study for Collective Bias™ and Walgreens. #CBias #SocialFabric". All opinions are my own