This shop has been compensated by Collective Bias, Inc. and its advertiser.
All opinions are mine alone. #HydrationToGo #CollectiveBias
Though breastfeeding is recognized as the best nutrition for your infant, as a new mother, I found that it is hard to keep your promise to breastfeed exclusively for at least a year. We all know how important nutrition is for breastfeeding moms, right? It is essential to eat the right food and consume the right amount of calories every day. However, what I usually forget is the importance of proper hydration.
Drinking enough liquids every day is necessary to ensure for all systems of the body to be properly replenished and for a mother to create enough breast milk to feed a little one. But just how much should a mom be drinking? It is recommended for a nursing mother to drink up to eight 8 oz glasses of liquids, and how much fluids are consumed correlates to the amount of the breast milk supply. Seeing that decrease of the breast milk supply (especially when pumping) usually "happens" if mom doesn't drink the sufficient amount of water. Luckily for us, there is CVS nearby and with their deals, drinking daily norm is easy.
Proper hydration doesn't just affect the amount of milk a mom produces – it also helps to ensure that breast milk is healthy and only producing healthy cells. Did you know that drinking a sufficient amount of water helps your body flush the toxins away and ensure your little one is getting the healthy aspects of your breast milk?
WHAT TO DO
There are many ways to ensure that a breastfeeding mom is getting hydrated properly. One easy way is to keep a water bottle close by at all time. That way you can drink it throughout the day.
Are you not enjoying the taste of the H2O? Stock up on some quality beverages and make hydration easy and fun. While I was at the CVS pharmacy to refill a prescription, I found out lots of delicious drinks in their fridge.
So many beverages have the potential of getting my hydration going: smartwater, vitaminewater, Honest Tea, and Gold Peak – I just wanted to pick one of each flavor, but can you blame me?
CVS pharmacy has great deals: purchase 4 bottles of smartwater, vitaminwater, Gold Peak or Honest Tea in any combination before July 25 for $5 and receive $2 off your next CVS pharmacy visit. With your CVS ExtraCare card, you will also get ExtraBucks on your purchase also to the sale discount. Don't have CVS ExtraCare card? It's quick to sign up and it's free!
EXTRA BENEFIT
Not only water helps to keep a mother's breast milk supply up, but having lots of water as a part of the healthy diet will help establish good breastfeeding right off the bat. Doing so will help the milk to come in sooner and to increase new mom's metabolism. A mother's body is trained to produce the quantity of milk based on the demand of the infant, even if it means putting the mother at risk for dehydration.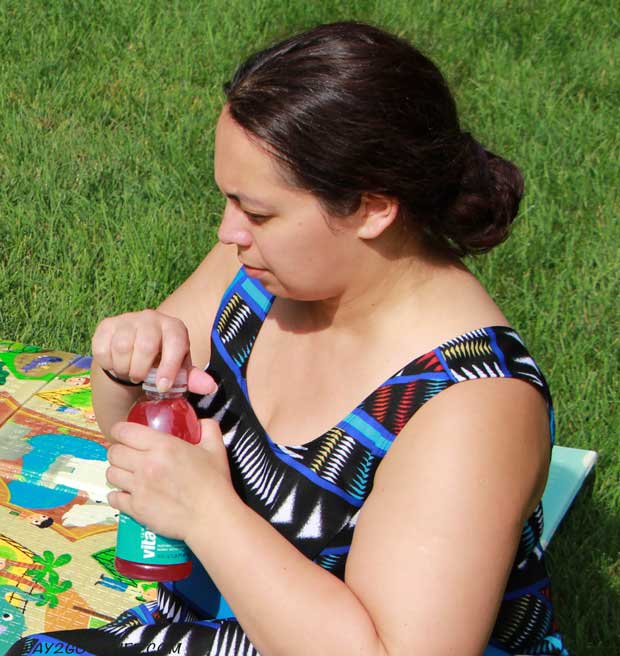 Love it or hate it, but is imperative for breastfeeding moms to make sure they are adequately hydrated every day, all day (even if that means going to the bathroom every couple hours).
Hydration doesn't have to be boring. Check out #Hydrationtogo for other fun ideas and tell in the comments,
how do you have fun with your 8 cups a day?
Follow Way 2 Good Life's board Advice for a New Mom on Pinterest.
Are you a new mom or will be one soon? Maybe you know one?
Look for more tips, tricks, and other great articles on Advice for a New Mom page