This post has been sponsored by the Goldfish Swim School in Mundelein.
The research and opinion are all mine
Babies love to splash in any body of water, whether it is in the bath, sink or a bowl. Not only is it fun but it is also a great sensory activity. But it is important to know about the importance of water safety for babies. Water can be dangerous and a split second decision can be disastrous.
When giving your baby a bath, it is important to use an infant baby bath seat. Not only does it make washing your child easier, but it also is a whole lot safer. Babies can be slippery to handle when they are wet, so you want to make sure you are making it easier for you to hold them. If your baby can sit up on his/her own, make sure that the bathtub has a rubber suction mat, so they don't slip and only fill the bath with 3-4 inches of water. It is important to make sure you have all your bath supplies right next to you, such as towel, soap, and washcloth. By keeping everything close, you will avoid leaving your little one unattended.
When it comes to safety in a pool, as a parent it is extremely important to take a first aid and infant/child CPR class. These are lifelong skills that you can learn to help save a life or know what to do in the event of an emergency. Be prepared! When you put your baby in the pool, be sure to that they wear a flotation device. Look for ones that are approved by the U.S. Coastal Guard. If you go to a public pool, look to see if there is a lifeguard on staff and keep your phone near you, so you won't be tempted to run and get it when you hear a call.
If you have a pool at home, it is important that you have it properly enclosed with a 4-foot high fence. It should be Self-closing and self-latching. Always lock the gate after each use! It is also important that the pool has a drain safety system. The suction from a pool can be strong enough to even hold an adult under water. So this is critical that your drain has an automatic pump shut off.
When are swimming with little ones, make sure that there are always supervised. Miscommunication over who is watching might lead to an accident.
The best way for a parent to feel more comfortable about water safety is to have their child start out young with swim lessons. Not only does their child will grow up learning how to swim and it's a lot of fun, but they are also learning a lifesaving skill. It is important for everyone to learn not only how to swim but how to swim well.
Did you know that you can enroll your baby in a swimming class as soon as they can hold his/her head around 3-months-old? My youngest has joined the swim school (with my help, of course) at 5.5 months and I found it to be a fun activity. Not only I got to play with my baby, but where else would you find warm pool water on Midwest in the middle of the winter.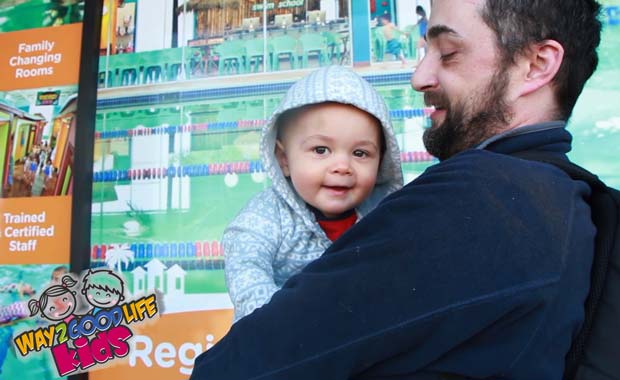 My now almost two years old never cared about water in his face or water around him. He is happy to jump in the water, and he is very good at climbing out of the pool. If you have a Goldfish Swim School nearby, check them out and tell me here in the comments when did you learning swimming?