Hendricks County, Indiana invited our family for a weekend visit and covered lodging and some activities, so we can share it with you.
I love waking up in a new place on the weekend. Look out the window and inhale a fresh air of the weekend with no chores and grocery lists to follow. It's a traveling weekend, and we are in Hendricks County, Indiana.
Located near Indianapolis, it's a short drive away from Chicago. I love my weekend getaways from Chicago – they are like mini vacations for my family. This morning my family started a day with a huge waffle topped with strawberry and pecans at the Staybridge Suites in Plainfield, Indiana.
Breakfast at Oasis Diner
Plainfield, Indiana
Yawning we walked into an old-fashioned diner and looked around. The vintage diner was full morning buzz, conversations, and forks bouncing off the plates.
The counter is surrounded by the shiny 60's chairs. A stack of cinnamon buns covered by delicious glaze topped a long pointy stand. How can you replicate the uniqueness of the Old 60's style with such precision and details? Every time I visit a place like this I expect to hear the music from Grease and dancing.
About Oasis Diner
It's a fantastic place for anyone who wants to visit not only a historic landmark but also see something Plainfield community fought for.
In 1954 the Oasis Diner was delivered to Hendricks County, Indiana via railroad from Signac, NJ where it was manufactured by Mountain View Diners in Signac, NJ. The original owner James Canavan owned and operated the Oasis until 1970. It changed a few hands a few times over the years. The last owner Raymond Piercy bought Oasis Diner in 1987 and ran it until 2008. Raymond's health forced him to close down the Diner in 2008.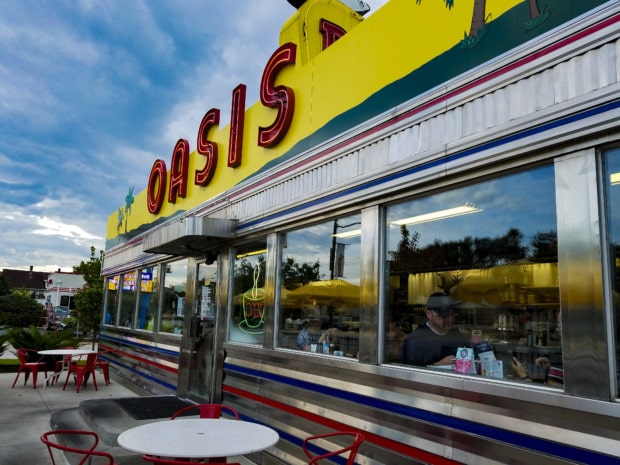 In 2010, Indiana Landmarks listed the Diner on their 10 Most Endangered Indiana Buildings list. This might have been the end of the Oasis Diner if not for two local residents. Doug Huff and Don Rector agreed to relocate, restore and reopen this historical landmark. 3 years later the Oasis Diner opened again in its current location in November of 2014.
The Oasis Diner has been restored to its original appearance and is still located on the Historic National Road. It is also 1 of 5 historical diners to remain on US 40 from Cumberland, MD to Vandalia, IL.
Eating Through US40
However, we were here to eat, and we opened the menus. WOW – what a selection. Should it be an INDIANAPOLIS – COUNTRY FRIED TENDERLOIN or BALTIMORE – SEASIDE SCRAMBLE? We could try SAN FRANCISCO – AVOCADO TOAST with scrambled eggs and roasted tomatoes?
We might indulge in an ATLANTIC CITY – STUFFED FRENCH TOAST stuffed with cream cheese and sliced strawberries? Every option sounded salivating and weird at the same time. Here is the thing, breakfast items here to celebrate cities along the national road US 40.
You can still get a delicious tenderloin, made with the same recipe the diner has been using for years. Oasis has a bakery on-site, and all of their bread products are baked fresh. There are also yummy hand-crafted sodas that are made locally, without any high fructose corn syrup. I highly recommend the butterscotch root beer!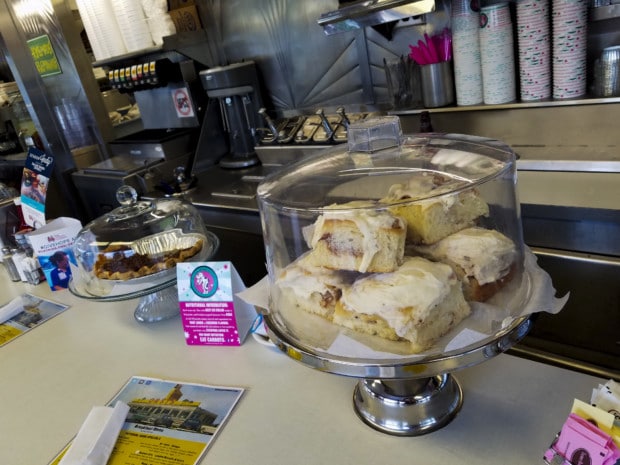 Truly a place to create memories, I wish I had something like this near me. I imagined coming here for a mother-daughter time or celebrating my son's wrestling win. What I do know for sure I will make a point of stopping by here the next time I am in town or close enough to it.
North Salem Old Fashion Days
North Salem, Indiana
Life in the fast lane is a lot of fun. We often find ourselves in a hurry – we are always running late, trying to catch up, and attempting to reschedule. However, I find it incredibly relaxing once in a while run away to the place where time seems to stand still. North Salem in Indiana is one of those places. Any other day this North Salem is a small town of 500, but one weekend a year it draws in thousands for a fun celebration. weekend getaways from Chicago.
About North Salem and Fashion Days
North Salem Old Fashion Days is a three-day event that takes place in northwest Hendricks County. It brings back all of its old traditions and introduces a few new ones all while ushering you in for a weekend full of food, fun and lively entertainment. Located about 25 miles West of Indianapolis in the northwest corner of Hendricks, you might have to drive the distance to get to County Salem, but I promise it's totally worth it.
Founded in 1835 it has a population of 633. However, a three-day event transforms this small town of North Salem into a busy city of a few thousands.
Going to Salem Fashion Days
This trip doesn't require much planning – find this place on the GPS and drive. Once you get here, you will quickly figure out where you need to go – just follow the crowd. Make sure to arrive before 11 a.m. when the annual parade starts. Get here ahead of time, so you can park and find yourself a seat in the shade by the road where the parade takes place – it gets busy!
The event starts early in the morning with a Smorgasbord breakfast and Hendricks County Chorus. However, it really kicks in full gear at 11 am with an Old Fashion Days Parade. Next, there is live entertainment, kids activities, and live activities all day. You will see a lot of tractors – from antique models to plowing demos and threshing machines. There is also a car show and pie contest – just like in good old times.
Beasley's Orchard
Danville, Indiana

If you are planning your trip to the Hendricks County, Indiana around harvest season, make sure to visit the Beasley's Orchard! We could see the large barn building far from the road surrounded by green fields and tree orchards. There something about this place that makes it feel incredibly peaceful. I was a bit disappointed not to hear soothing, meditative music. We parked and walked into the barn. In the dim light, we surrounded by the wooden shelves filled with brightly colored fruits and vegetables.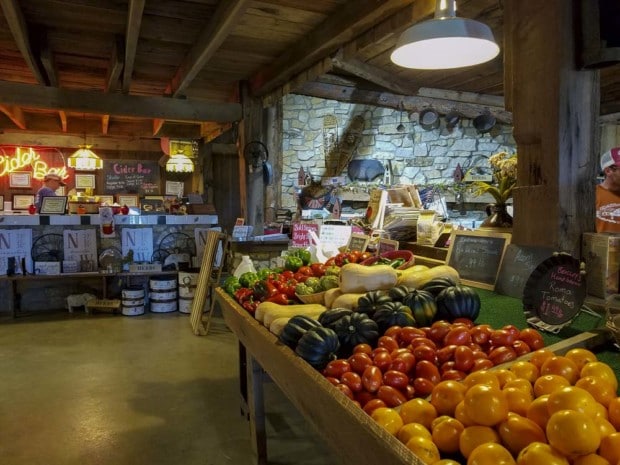 Spaghetti squash was sitting cozily next to the Acorn Squash. Red Roma tomatoes were shily sitting next to the giant yellow tomatoes. At the end of the aisle was a shine sign Cider Bar.
Is there a wrong time for a glass of cider? , but what we really were after are the apples, freshly picked off the tree branches.
About Beasley's Orchard
Beasley's Orchard began in 1946 when Milton and Irene Beasley purchased the farm. They raised livestock (hogs, cattle, and chickens) and grain. The family with three children, Shirley, Sharon, and John, also enjoyed gardening and tending a small apple orchard.
A year later an overabundant garden prompted sales out of young John's little red wagon, which was set up next to the nearest road, US 36. These days Apples, Tomatoes, Sweet Corn, Green Beans, Cucumbers, Peppers, Eggplant, Squash, Cantaloupe, Watermelon, and Pumpkins are produced here for wholesale and retail. The barn that houses the market was built shortly after the Civil War using classic peg and beam construction. It has been used for every aspect of farming including hay storage, dairying, pork and poultry production, horses and now a retail market, apple picking, and cider mill.
Beasley's Orchard hosts "Heartland Apple Festival" and a U-pick pumpkin patch in October.
At the Beasley's Orchard
We made out way outside where a boy sat at the big table collecting money and handing out apple bags. Rows of apple trees in front sprung branches toward us pushed to the ground with the weight of the season's bounty. Imagine crunchy green apples, sweet red apples, and juicy yellow apples as far as you can see.
There was no reason to hurry – there was way more apple than there were people around us. My three-year-old approached a branch to lean toward it and caught an apple with his mouth – CRUNCH! The next apple landed in his aluminum pail he was holing with his right hand. The older kids jumped between raws of apples layering red apples over green apples. A couple of raws over a family was taking seasonal family photos – what an idea!
Beasley's Orchard also has a corn maze, but it opens a little bit later in a season. In October this place attracts scavenger hunters and those who love getting lost in a corn labyrinth.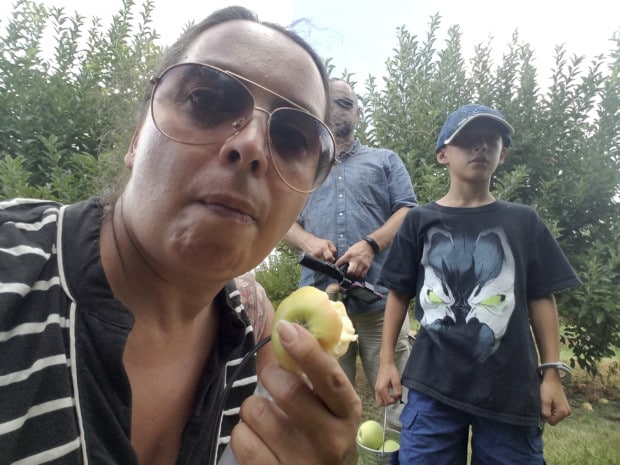 Do you know what else you will find in Hendricks County, Indiana? How about a Lucas Oil Raceway? Not a fan of races? Believe me, this raceway could make a family weekend getaways from Chicago of its own. And it is very family friendly!
Lucas Oil Raceway
What makes a more significant contrast that going from an event frozen to a car racing stadium? It's hard to argue – car racing is an ultimate fun activity, fast and entertaining. The weekend of our visit, Lucas Oil Raceway was hosting U.S. Nationals experience.
To be honest, I have never been to a racecourse, but I knew one thing for sure – ear muffs! Armed with the knowledge and several pairs of noise-canceling headphones we head out to the Lucas Oil Raceway. We passed a ticket gate and crawled through what seemed like an endless parking lot of campers and cars. It's hard to know where to park if you don't know what you are looking for.
About Lucas Oil Raceway
Lucas Oil Raceway (formerly Indianapolis Raceway Park and O'Reilly Raceway Park at Indianapolis) is an auto racing facility in Brownsburg, Indiana, United States, about 10 miles west of Downtown Indianapolis. Originally designed in 1958 to be a 15-turn, 2.5-mile road course, it now includes a 0.686-mile oval track, a 2.5-mile road course, and a 4,400-foot drag strip which is among the premier drag racing venues in the world.
Lucas Oil Raceway in Hendricks County, Indiana is one of most family-friendly racecourses in the country. Not only it's a place for families to hang out, but it also a racetrack with lots of family activities. While it is incredibly entertaining to watch cars take off on the drag race strip, wandering outside the course is not any less fun.
Exploring Lucas Oil Raceway
How often can you actually get up close to a racing car? How about getting an autograph from a racer or getting your hands onto a real race car part? It is all here – mechanics take racing cars apart right in front of your eye. They remove car parts that are no longer useable and put it back together. There are also plenty of trinkets for the kids – posters and little souvenirs. Anything to make a long-lasting memory of the Lucas Oil Raceway. Little adventure seekers like my 9-year-old son also get to sit in a real racing car from time to time!
Meanwhile, it started to get darker. We made out way back onto the bleachers just on time to see another pair of cars take off. Flames shut out of the exhausts lighting up the sky and zoom – there were on the other side of the course – what a speed!
I would like my boys to come back here next year – it seems like an ideal father-son trip. Spending a whole day there will not be hard!
The Backstage
As we made our way through the parking lot of Lucas Oil Raceway, we noticed something different. Enormous parking lot seemed like backstage at the rock concert, and a festival grounds a the same time. Here and there racing cars were tucked away in the trailers – some quietly waiting for the next day while others were worked on. Groups of people were grilling, laughing and drinking nearby.
I bet they had a lot to talk at the end of the day. The air was charged with experience and memories. It felt like we scored a backstage pass to observe racers, crews, and families living there off the race course life. They were so close we could shout: Hey, can we join you?
We carefully crawled through the backstage of the racecourse toward the exit. What an exciting day!
Exploring Hendricks County, Indiana has been a bliss. Just like many of our weekend getaways from Chicago this one a lot of fun and packed with fun activities. Unlike anything else, it was calling me to plan a trip back here again soon.
Looking at what else to do in Lafayette? Read on!
5 Things to do in Hendricks County, Indiana:
Drive or

Fly

?

Hendricks County, Indiana is less than three hours away from Chicago. Easy drive down will get you there in no time.

How Long to Stay Here. This is an amazing wekend trip with a lot to offer for the family.

Will you need a car to get around?

Yes! There is no other way to get around and get to all these places

Family Activities.Lucas Oil Raceway, Kid's Planet, Tie Dye Lab

Local food not to

be missed

. Oasis Diner, Mayberry Cafe.