What do I do when the High School Marching Band is in full swing, and the Cross country team has a meet after meet? At the risk of being called a bad mom, I go on the girls' weekend trip to Shipshewana, Indiana. Why Shipshewana? It is close (only a three-hour drive from the Windy City) yet far enough to call it a mini-vacation. It is also a much-needed breath of fresh air for me and a friend who agreed to accompany me to the Amish Country.
GETTING THERE:
A car drive takes about 3 hours
Greyhound Bus – about 3.5 hours
WHERE TO STAY
We stayed at the Van Buren Hotel – only a few minutes away from the Blue Gate and other activities. My first impression? Fresh Lemonade at the reception is a fantastic way to welcome a tired traveler, and yes, I enjoyed that very much. A spacious room with a large window and light-blocking blinds is all I need for a good night's sleep and a happy morning. A stay at the Van Buren also comes with a hot breakfast. The beverage station is open all day, and did I mention lemonade?
Looking for an Amish experience?
Stay at Miriam's Bed & Breakfast. You will occupy a room in an Amish house with access to shared spaces. There is no TV, Wi-Fi, or the Internet. 
Farmyard Inn is a 3-bedroom/1 bath home on a working Amish farm. Guided tours are available upon request.
Hollow Ridge Lodging is an Amish-owned cabin in Middlebury, and it comes with a choice of tea or coffee and Katie's tasty homemade cinnamon rolls served at your leisure! Towels, linens, and campfire wood provided,
Love modern technology? The area also offers many other options at different price points and situations. 
I must also mention the Farmstead Inn – located across the street from the famous Shipshewana Auction & Flea Market and within walking distance of local theatres, shops, and restaurants.
WHERE TO EAT
Blue Gate Restaurant
Blue Gate Restaurant and a bakery reside in the building, with the entertainment on the second floor. Grab a sandwich and a box of baked goods, or enjoy a sit-down Amish/Mennonite lunch or dinner in the dining room. The Blue Gate company also has three retail stores, a theatre, a hotel, an event center, catering, and a carriage business. A stop at the Blue Gate can easily mean a carriage ride, a dinner, live entertainment, and a bakery stop – an evening of entertainment!
A native of Northern Indiana Amish Country, Mel Riegsecker opened the Blue Gate (formerly Der Strudel Haus) in the '80s with one dining. Today, the Blue Gate hosts 750 seats.
Dine in an Amish home
My friend and I joined a group from Iowa on their way to the East Coast for a Taste of Shipshewana dinner hosted by Brenda Slabaugh's family. Located in the barn adjacent to the Amish family house, the barn is well-equipped for any gathering. The charcoal board wall listed menu items for our dinner and two long rows of tables accommodated our sizeable group.
Maria started the dinner by introducing herself and her family – she has five daughters and a son, who is about to go on the Rumspringa. Meanwhile, a big plate makes its way around the table, sharing Broccoli Cauliflower salad, greens beans, noodles, mashed potatoes, roast beef, baked chicken, and a slice of pie. No guest will leave hungry today as the plates with food keep coming back for anyone wanting seconds, thirds, and fourths. The dinner also comes with conversations between guests and questions for the hosts about the Amish lifestyle, which Maria happily answered.
Want to have a unique dining experience like ours? Don't bother looking for online reservations. Contact LCCVB/VISITOR CENTER, and they will happily give you suggestions, tips, and contact information for the families hosting Amish dinners. You will call to make your reservation.
Ice cream
Ready for a dessert? You are likely a few steps from your next perfect Ice Cream Scoop. Visit The Vanilla Bean for one of the 28-30 ice cream flavors. Stop by the Dips Ice Cream Shoppe for a milkshake. Walk to the Mom's Ice Cream for a Hand-dipped Velvet ice cream. Give an Old Fashioned Amish Frozen Custard a try at the Amish Frozen Custard & Soft Serve.
WHAT TO DO
Blue Gate Music Hall
See a performance at the Blue Gate Music Hall. Located at the Blue Gate right above the restaurant, the Hall makes a very convenient dining and entertainment option for those not wanting to travel far. We saw Salute to the Stars From Nashville to Memphis, featuring George, Dolly, & Elvis. The show is a lot of fun as fans of these legends will surround you. However, I can guarantee even if you have yet to learn a word from featured songs, you will still have much fun.
Menno-Hof Mennonite-Amish Interpretive Center
How much time do you have to learn about Amish culture? While many people we saw at the Menno-Hof Mennonite-Amish Interpretive Center gift shop were there for a great shopping experience, those few who proceeded further were in for a great historical treat. 
You will find yourself moving from one interactive historical event to another, learning about the history of Christianity, the beginning of Baptism, the history of Amish Culture, and their long way to the Americas.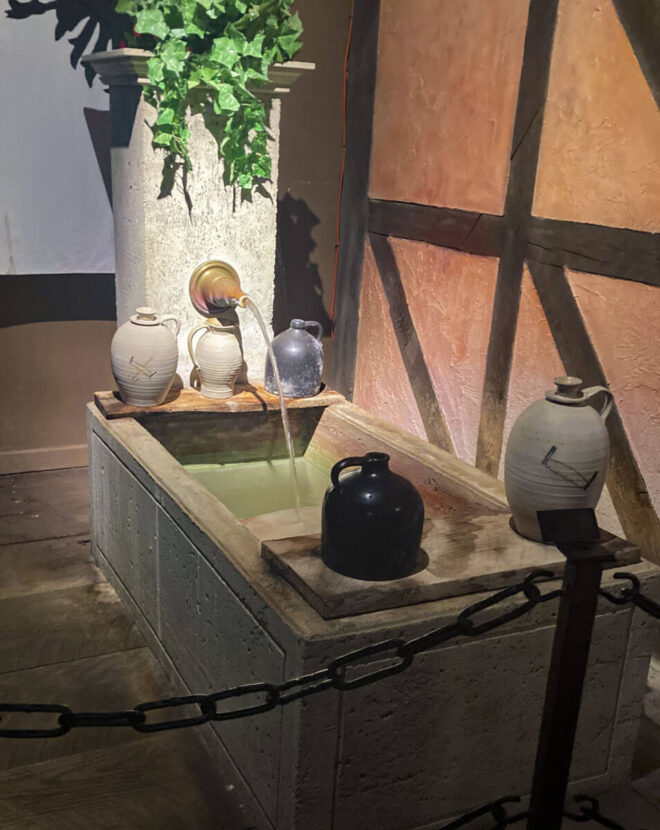 I asked questions about Russian Amish migrations to the United States, as I had no idea there were Russian Amish communities. The Guides of the Menno-Hof have the answers to just about any question you might have.
Shipshewana Trading Place/Flea Market
Shop till you drop lover? You will love this part – there are hundreds of shopping options here. Visit Davis Mercantile Shopping Experience and Downtown Shipshewana Shops on Harrison or Morton Street. Davis Mercantile Shopping Building also houses a few places to grab a bite, a giant carousel on the third floor, and a 370-year-old tree "growing" in the mall, giving the building the feel of a tree house. 
Nearby is the Shipshewana Flea Market – it is open every Tuesday & Wednesday from April through September and a few special weekends and holidays. 
This Midwest's Largest Flea Market houses with nearly 700 vendors. The family-owned market has been operating since 1922, when six pigs, seven cows, and several heads of young cattle were sold at the home of George Curtis during the very first livestock auction.
While the Flea market is closed over the winter, the Antique Auction is open every Wednesday all year.
Blue Gate Performing Arts Center
The Performing Art Center is a larger concert hall that hosts a variety of big names throughout the year, like the Glenn Miller Orchestra, Bret Michaels, Kenny G, and more. While visiting, we attended Marie Osmond's concert, a colorful highlight of our trip. Full disclosure: I only knew a little about Marie Osmond – not much beyond her QVC spots and general knowledge of the Donny & Marie Show in the late 70's. 
Marie Osmond is a fantastic performer. She made the audience laugh and cry while getting incredibly honest and wickedly funny. Each member of her group is a talent individually but a fun, entertaining show.
Marie Osmond's new album Unexpected is a collection of opera, Broadway, and timeless classics, which added an unexpected depth to our evening. 
T&L Country Canoes
What do you do in Shipshewana on Sunday when most businesses are closed? May I suggest getting out and enjoying the great outdoors. T&L Country Canoes offers leisurely trips down the scenic Fawn River the way the Potawatomi Indians used to do for hundreds of years.
Most of the river has been unchanged for hundreds of years – it twists and turns, but it flows in one direction, which is great for a kayak rider with a poor sense of direction or limited experience. I mostly observed the Fall colors and wildlife while the river gently carried my kayak down the stream. 
It has been the most tranquil experience of the season and a fantastic way to spend Sunday morning.
ABOUT THE AREA:
Shipshewana & LaGrange County are known as a one-of-a-kind destination for visitors to experience the simplicity of Amish culture as well as the delicious foods and quality products they produce.
WHAT GOODIES DID I BRING HOME?
I make a point of bringing something delicious home from most of my trips. It makes a great answer to "Mom, What did you get us?" and makes the trip memories last a bit longer.
Here is what is in my trunk:
Blue Gate Amish Peanut Butter
The Dutch Kernel Turtle and Cheddar Popcorn
Baked Goodies from Rise's Roll Bakery
Rise'n Roll Jams
Yoder's Hardware Root Beer