We received a complimentary stay at the Holiday Inn Ft. Wayne-IPFW & Coliseum as a part of our trip.
Every time we travel the first question my children ask: Where are we staying? Will there be a bunk bed? Will there be a pool? I often have to brief them on what to expect before they even pack. And our latest stay at the Holiday Inn Ft. Wayne-IPFW & Coliseum didn't disappoint!
This impressive 650 sq ft suite of the Holiday Inn Ft. Wayne-IPFW & Coliseum has an excellent separation between sleeping areas and the separate play area yet still open enough to let me see what is going on in every corner of the space.
The living/dining space is perfect for any family gatherings. It is always nice to have a dedicated eating space, so children don't run around with sandwiches and drinks.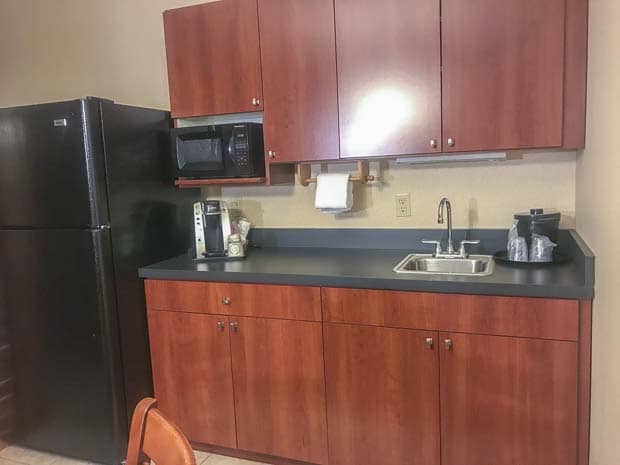 A futton is an excellent extra sleeping option if needed.
However, having plenty of space for a crib is a huge benefit for sure – my toddler and I often can't make up his mind where exactly he is more comfortable sleeping, and I move his sleeping quarters more than once.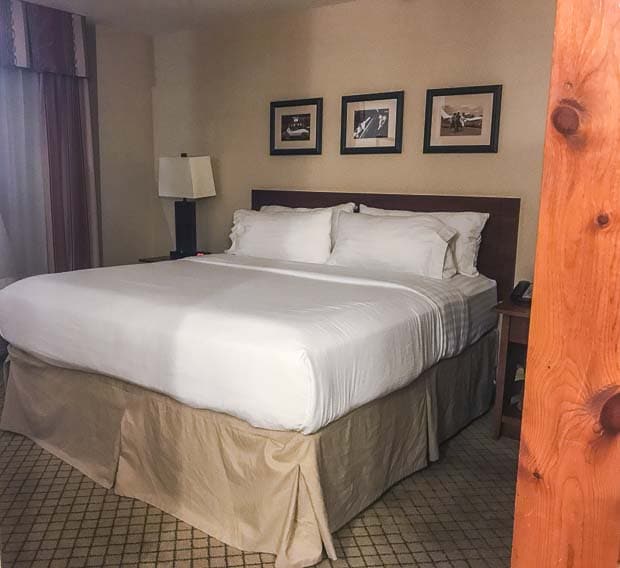 I know right about now you want to jump into this comfy bed – and you are not wrong! This is the best place in the whole suite – soft and super comfortable!
Yes, there is a bunk bed, and that means lots of fun for the kids, but first, to decide who is sleeping here today and who is tomorrow!
Arriving late has its benefits – kids are tired and fall asleep right away, and that means this mama can work in peace in quiet. The bar is still open, and I have my well-deserved drink!
On our first morning here, we got to explore the hotel finally, and first stop was at the reception desk – just to say hi!
Spotted right next to it is this drinking station – I guess I wasn't the only one wanting to try it a cup, my son was way ahead of me!
Kids also spotted the pool – such a bright, inviting place – we will stop by here later for fun! 
Every time we travel I wish I could spend more time in the hotel. With all the features and option – why would I want to leave, but our day is packed, and we have to go!
Download your Fort Wayne Travel Itinerary