Thank you to Visit Mason City for taking me along on this trip, and I promise that food and entertainment didn't cloud my judgment
As the small eight-sitter plane touched the ground, passengers chatted cheerfully. I have never been on a Cessna plane before and didn't know what to expect, yet when we landed, I was happy to be back on the ground. The pilot asked me curiously why I was visiting Mason City and when he heard that I was a travel writer, he looked puzzled: What is it to do in Mason City?
Mason City's airport only serves Air Choice One airline and at 10 pm was serviced by one employee that greeted us by the plane with the marshaling control lights, carried our luggage into the building, and wished us the best as we left the airport.
The next two days I spent at the incredible Midwest blogger conference in the historic Surf Ballroom learning great things about the business of travel blogging and meeting new people.
I also learned a ton about this place: every corner here holds history – from the back room where many performers and politicians left autographs to the phone booth Buddy Holly used to call his wife back in 50's,  from  the original ballroom booths and murals that look so unique to the Winter Dance Party that takes place here every year since 1979…
However, by the end of the conference, I realized that I hadn't seen much of Iowa and with a most of the day to spare before my flight back home to Chicago, I joined a press trip organized by Visit Mason City to finally find out what is it to do in Mason City?
While I couldn't take a long trip around this town, I can share my biggest takeaways:
Mason City loves its history. Kinney Pioneer Museum is full of random artifacts that were found at various times in this town – from old days swimsuits that were available for rent right hear by the lake to antique cars, from a one-room schoolhouse to a DYIed wagon made by one father for his triplets in the early 1900's.
Mason City loves its heroes. We visited Charles H MacNider Art Museum with a collection of American art and puppets created by famous Bil Baird who grew up here.
The Music Man Square & Meredith Wilson's Boyhood Home took us back to the world of the iconic movie and let us take a peek into the restored 1895 house where the American composer spent his adolescent years.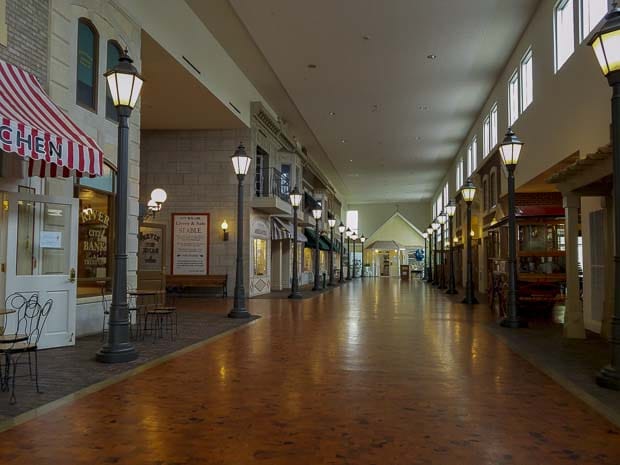 Mason City has a great sense of community. For lunch we stopped by the Suzie Q Cafe – the smallest restaurants I've ever been to – it can't accommodate more than ten people at the same time (I counted). If you do get a seat here, you will get more than just lunch – you will get a front row ticket to a show with a magic show, and a highly dangerous Fire Eating Trick performed by people who are not only great at making food!
This place is known for two dishes, and you can see it in the menu – Philly Cheese Steak Sandwich and A Spic-n-Span Tenderloins (Second in the Nation and best in Mason City), both look mouthwatering and taste beyond compare.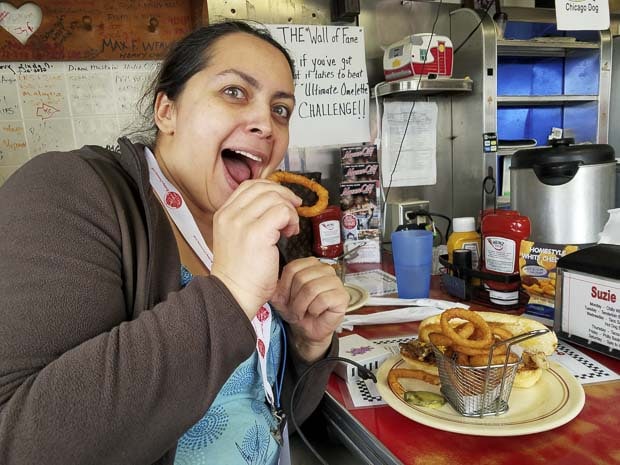 In business since 1949, Suzie Q Cafe is open for breakfast and lunch, and absolute must-stop for anyone looking to experience unique local flavors.
I didn't even realize how late it was when someone reminded me of the flight back to Chicago. Lucky me, in Mason City everything is close – ten minutes later I walked into the terminal and went straight to the counter – ready for my flight on a tiny plane! Six other passengers were already there chatting about their day and sharing travel plans: people here are a lot friendlier than I am used to.
5 Things to know about Mason City:
Drive or Fly?
Drive. Mason City Municipal Airport is only 10 minutes away. Air Choice One is the only airline that flies there, and it operates 8-seater planes. It's an exciting experience if you would like to try it and the tickets are cheap! If you are not into flying on small planes, then the drive from Chicago is about six hours
How Long to Stay Here
Six-hour is a great drive for 3-4 day vacation. Mason City has a lot to offer, but Clear Lake is right next to it too. That would make a great long weekend for anyone who lives in the Chicagoland area.
Will you need a car to get around?
You need the car to get around in this area
Family Activities:
The North Iowa Event Center – check their schedule and they often host fun family events
River City Sculptures on Parade – grab a booklet and have a scavenger hunt to discover all fun sculptures
The Music Man Square & Meredith Wilson's Boyhood Home – great stroll down memory lane
Local food not to be missed.
Suzie Q Cafe – in business since 1949 and serves a killer Spic-n-Span Tenderloins
Birdsall's Ice Cream Co – in business since 1931 and is a town favorite