This shop has been compensated by Collective Bias, Inc. and its advertiser.
All opinions are mine alone. #TeamPizza #CB#CollectiveBias
Sure, your game day that you host every year may be lots of fun. You may have some great food and drinks on hand, and everyone always has a great time. But if you are looking to step up your Game Day party, you absolutely must have a theme. Why? Because it is themes that bring not only an extra fun element to your celebration but it is also a perfect way to tie in your party together. And you can still have your pizza because we will tell you which pizza will compliment your theme party best. Also, look for the bonus tip at the bottom of the post – 5 salads out of the one bag of greens!
And lucky you Target has a Cartwheel Offer you don't want to miss – stock up and be ready for the overtime anytime!
Mexican Fiesta
Not only are the colors great with a Mexican fiesta but so is the food. While beer is always a staple at tailgates and game day parties, having margarita's on hand and some Mexican beer is even better. You can fire up fajitas on the grill, and everyone will love queso, salsa and guacamole dip for appetizers. People can bring their favorite Mexican food item for a potluck.
What Pizza is Best?
Go for the Red Baron Classic Crust Mexican-Style or Thin & Crispy Supreme. Go with a perfect, classic crust that bakes up golden brown with just the right crunch, and topped with delicious pepperoni. Or go for a crispy crunch alternative with the savory toppings, hearty sausage and pepperoni, big pieces of red and green peppers and onions, and delicious mozzarella cheese perfection.
Seafood boil
This game day theme is great for socializing as it brings a unique element to the party. This is typically a game day party that you want to do outside when the weather is nice. Boil some great seafood treats together such as crawfish, crab, shrimp, sausage, and potatoes together with some packaged seasoning. Everyone can bring their favorite seafood item to put in the pot. When it is all done, all you have to do is drain the water and spread it on a table covered with newspaper. Have trash for shells on either end of the table and a bunch of shell crackers available for people to use. People will love gathering around the table, eating their delicious seafood.
What Pizza is Best?
Your choice of the Red Baron Classic Crust Hawaiian-Style or Brick Oven Cheese Trio. It is the Hawaiian Style pizza with a perfect crust (not too thin and not too thick) with Canadian bacon and tangy pineapple vs. the Brick Oven Cheese Trio Pizza with large shreds of mozzarella & provolone cheeses blended with parmesan cheese and a sprinkle of parsley atop the unique, bubbly golden brown crust. Which one will you choose?
Deep Fry Game Day
Everyone would agree that everything tastes better deep fried! With this game day theme, everyone brings food items that they would like to deep fry and eat. You can have different batters available for people to dip and put in the deep fry pot. Have different recipes for meat, desserts and appetizers for your guests to try out. Keep dessert and meat food items in separate deep fryers. Your guests will get a kick of out trying new deep fried treats.
What Pizza is Best?
The sky is the limit for this theme! Would you choose a Brick Oven Sausage Supreme, Meat Trio, Classic Crust Hamburger or Classic Crust 4-Meat – it's crust perfection in every bite!!
Bacon!
Bacon is so yummy that it accompanies everything quite perfectly. Serve food that either has bacon on it, wrapped in bacon or you can also have a plate of just cooked bacon for people to pick up at and eat. Your game day party will be a celebration of bacon! Everyone can wear a bacon item. You would be amazed at how many bacon inspired clothing and fashion accessories there are on the market today!
What Pizza is Best?
Red Baron Classic Crust Special Deluxe is the way to go! Hearty pieces of sausage, pepperoni, mushroom, black olive, onion and red & green pepper, and premium cheese is the secret recipe for this pizza and it is as awesome as you are!
Chili Cook-off
Looking to bring some competitiveness to your game day? Try hosting a chili cook-off at your next party. Every guest brings their special chili that they made, and everyone gets to rate how good it is. You can even have a special chili trophy to hand out to the winner.
What Pizza is Best?
Opt-in for the Red Baron Classic Crust Supreme. If you're getting a perfect crust, why not load it up with supreme ingredients – sausage, pepperoni, and green & red peppers. Not too thick, not too thin, and packed with deliciousness.
Overtime Salad
Have a bag of greens and no time to waste? Customize your dull greens four different ways.
Incredible Flavor:
Broccoli, croutons, cherry tomatoes, sunflower seeds, and feta cheese.
Feta cheese is incredibly flavorful and doesn't need any other dressing.
Sweet Tooth:
This salad has few cucumbers, cherry tomatoes, sweet pepper, and shredded cheese, but it is also full of dry cranberries, toasted almond pieces, mandarins, and served with Cranberry, Walnuts & Gorgonzola dressing.
Nutritious and Delicious:
Here are all the basics – cucumbers, sweet peppers, shredded cheese, but add garbanzo beans, sunflowers seeds, and almond pieces for optimal taste. It goes great with Cilantro Salad Dressing (if you like cilantro, of course).
All Colors:
There is a little bit of everything in this one – sweet pepper, tomatoes, cucumbers, croutons, and cranberries. However, humus dressing gives it a Middle Eastern look and taste.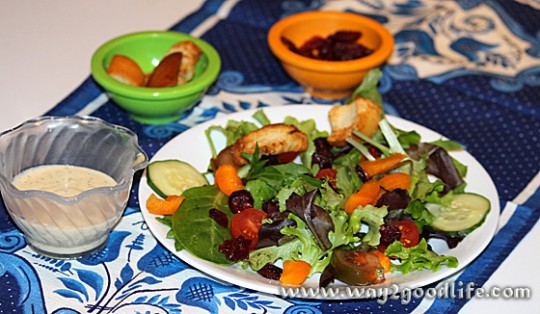 Which pizza and salad will make your game day?