Clear Lake, Iowa invited us to stay in their beautiful town for a few days and covered some expenses, so we could share our experiences with you
What is your idea of the most chill day ever? Up until now, mine was to leave my family for a day and check into a nearby hotel for a day of TV and doing nothing. However, now I have a new happy place!
Clear Lake, Iowa
It is called a Clear Lake City Beach in Iowa. If ever I want to disappear, you will have a very decent chance of finding me on a sandy beach of this beautiful lake in Iowa. I dare to call it my most relaxing day of the year.
Surf Ballroom
First stop of the Historic Surf Ballroom. I just finished reading Stars Over Clear Lake – A Novel by Loretta Ellsworth. This book gives a fictional spin on the real events that took place here in the '40s and '50s.
Every corner of the Surf Ballroom holds history. There is a room where many performers and politicians left autographs. There is a phone booth Buddy Holly used to call his wife back in the '50s.
Walk in and find yourself surrounded by original ballroom booths and murals. Every February since 1979 Winter Dance Party takes place here at the Surf Ballroom in the memory of Buddy Holly.
Clear Lake City Beach
"This would be an exceptional place to stay," I thought as we passed rows of vacation homes snuggling to one another.
Everything you would want is within walking distance. There is a lake, a playground, and a cruise ship that will take you around the lake. Walk a block, and you are in the town district with lots of small shops and dining spots.
If you take 1st Ave down, it will take you right down to the City Beach. As the road carried us down to the strip of sand, we parked and looked around. Besides a few families with small kids, the beach was empty, but there were a dozen tiny yachts sliding back and forth near the shore. This was a local club hosting sailing lessons for little kids. I couldn't wait to bury my feet in the cool morning sand and enjoy the view in front of me. Isn't it a perfect wallpaper for the winter months ahead?
Clear Lake Sandbox
My 3-year-old was already busy exploring edgeless sandbox next to the most fantastic water table. He wanted to spend a whole day building and crashing sand castles. In a meanwhile, my 9-year old extravert made be-friended a dog that was enjoying the day fetching a stick out of the water. The dog's best friend (aka the owner) Jim, has lived on the lake for twenty years. He happily shared his Clear Lake experience with my husband and even offered a ride around the lake.
Next thing I knew, my husband and two older kids hopped aboard a small boat and disappear in thin air. Well, "disappear" might be a strong word considering that I could still see the boat 15 minutes later. It made its way along the shore and eventually became too small to separate among other yachts and boats on the lake.
Starboard Market
Chilling on the beach is hard work, in case if anybody asks you. It is not easy to stay away from checking the email and watching Netflix, and I quickly got hungry.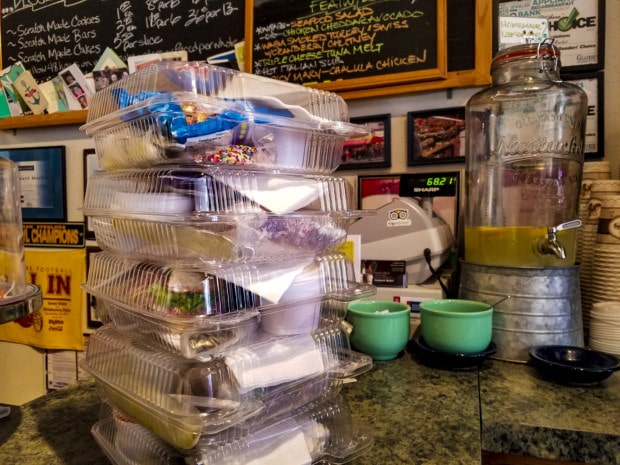 "Ready for lunch, buddy?" I asked my little one. He wasn't but a promise of a big cookie convinced him to take a walk with me.
Starboard Market is a small restaurant located at 310 Main Ave in Clear Lake, Iowa. With limited seating inside and on a patio, I highly recommend a Box Lunch. This place is known for their homemade soups, salads, sandwiches & desserts, and a box lunch will give you a taste of all of that. Forget a school size lunch box, this lunch will come in a big snap-on plastic container with lots of food. There is a big sandwich, a full-size salad, and a giant a big made from the scratch cookie.
My Beach Boy
"Let's go to the Beach!" my son exclaimed. Cookie crumbs were all over his face and t-shirt and he was ready to get back to his most important project of the day.
We continued our day at the City Beach in the middle of Clear Lake. I had a magazine I've been meaning to read, and he had sandcastles to crunch.
Lady of The Lake
If you are not lucky enough to score a private Lake tour, consider boarding a Lady of The Lake for a two-hour lake excursion. Docked at the Seawall just across from Clear Lake's city park and behind the band shell, Lady of the Lake patiently waited for tourists and locals. Rebuild from a steam engine into a diesel, this boat is fully operational and hosts 1.5-hour tours several times a day.
Just as the Lady of the Lake finished boarding, the small boat brought my family back – my kids jumped back in the water.
An evening on the Clear Lake is even more beautiful than a bright clear morning. My 3-year old was still building and squashing sandcastles and I had very little to do. I read, enjoyed beautiful weather and wished that this day would have never ended.
5 Things to know about Clear Lake, Iowa:
1. Drive or Fly?
Drive. While Mason City Municipal Airport is only 10 minutes away, Air Choice One is the only airline that flies there, and it operates 8-seater planes. It's an exciting experience if you would like to try it though and the tickets are cheap! If you are not into flying on small aircraft, the drive from Chicago is about six hours
2. How Long to Stay Here
Six-hour is the first drive for 3-4 vacation. Clear Lake, Iowa is a small town, but it is right next to Mason City with more to do.
3. Will you need a car to get around?
If you book a vacation home on the lake, you can get around without driving, but if you want to take a trip to Walmart or visit Mason City, buckle up!
4. Family Activities
Surf Ballroom – a tremendous historic ballroom and a musical landmark
Clear Lake City Beach – free and fun activity
Lady of the Lake – public cruise
5. Food not to be missed.
Starboard Market – a great breakfast/lunch place at 310 Main Avenue
The Other Place – great pizza and cool sports bar at 200 US Highway 18 W