This post is brought to you by our sponsor, "Always Eat After 7 PM". The opinions expressed below are my own.
May I just tell you that the book I am reading right now turns all my knowledge about food norms upside down. Breakfast is NOT important! Eating carbs in the evening is OK. Munching after 7 pm doesn't slow down your metabolism. I mean, that is pretty crazy if you ask me, but the author Joel Marion of Always Eat After 7 PM: The Revolutionary Rule-Breaking Diet That Lets You Enjoy Huge Dinners, Desserts, and Indulgent Snacks—While Burning Fat Overnight doesn't just say things. Chapter after chapter offers studies that prove that what we know about food norms is nothing more than old wives' tales.
Bestselling author, Joel Marion, is a fitness expert and nutritionist debunking the myths underlying traditional dieting and offers a simple, highly effective weight loss program.
You can find the beginning of my journey a few weeks ago. I also shared the guilt I often feel for not sticking with the right food choices and how the book changed my outlook on diets. Finally last week I shared what I learned about breakfast lies sponsored by cereal companies.
In general, healthy fats can also help increase feelings of fullness and satisfaction because they regulate appetite through a number of mechanisms, including the release of appetite hormones. What's more, combining fat with fiber has been shown to further increase the satiating potential of fat. The satiating power of fats is often one explanation offered to describe why some weight loss trials have shown that low-carbohydrate (and higher-fat) diets tend to lead to greater weight loss than low-fat diets
"Avoiding carbohydrates and restricting calories later in the day can have an adverse effect on your thyroid hormones, which play a major role in metabolism. When the thyroid fails to secrete enough of the hormones that control metabolism, this can trigger symptoms like fatigue, depression, weight gain, thinning hair, and dry skin."
What's now?
Now starts the real work and puts the newly aquired knowledge to use. Joel Marion's book comes with a variety of recipe options that are easy to follow and put to a good use.
The Always Eat After 7 PM plan consists of: The 14-day Acceleration Phase to kick-start the program and see rapid results, The Main Phase where you'll learn exactly which foods to eat when in order to achieve your weight-loss goals, The Lifestyle Phase to keep the weight off for good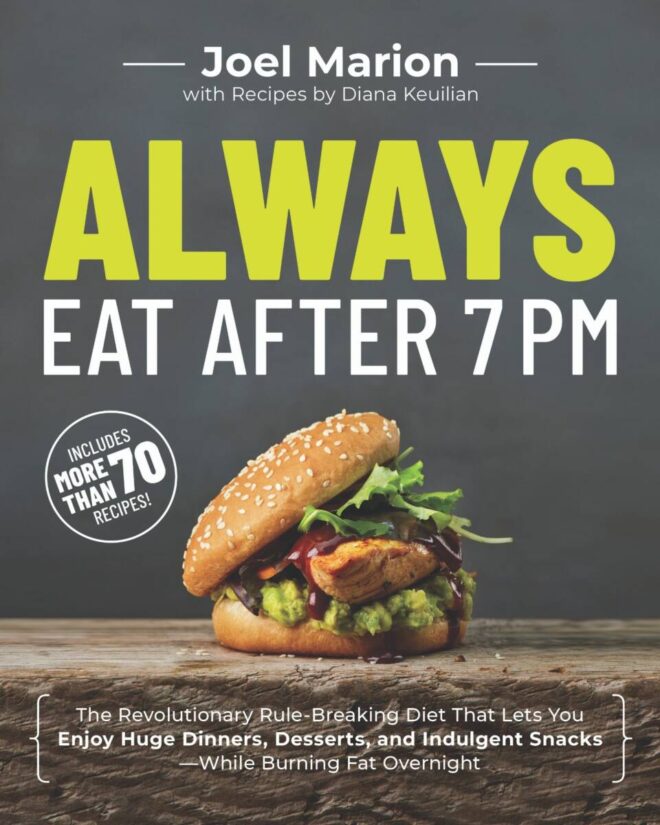 I recently realized that I don't actually have breakfast until 10 am. I attributed it to always being late and playing catch up first thing in the morning. However, with what I know now I believe intermittent fasting is an excellent way to jumpstart the new lifestyle.
Now, keeping away from processed carbs might be hard, but I have found a few late-night snack ideas in the book that I can't wait to try.
I am still reading the book and learning so much. However, you don't need to wait for me. Learn more about the book and how to purchase here.
Always Eat After 7 PM: The Revolutionary Rule-Breaking Diet That Lets You Enjoy Huge Dinners, Desserts, and Indulgent Snacks—While Burning Fat Overnight by Joel Marion is now available to purchase.