Do you have a baby or small children at home? Have you considered signing them up for swimming classes for babies? It's hard to know precisely when to sign your kids up for lessons, but baby swimming classes are crucial for various reasons.
We will talk about the benefits of baby swimming classes soon, but if your kids are older, there are still plenty of reasons to look into swimming lessons. It's never too late! There are significant benefits to learning to swim at any age, plus, as surprising as it may seem, it's an excellent year-round activity. 
Why You Should Sign Your Child Up for Baby Swimming Classes
My kids love swimming! It is by far their favorite activity, no question. Can you blame them? With summer camp starting soon, they can't wait to show off the skills they learned in their swimming classes. You might be surprised to learn that their younger brother also loves to swim! That's right. We signed him up for swimming classes for babies at the Mundelein Goldfish Swim School when he was five months old, and he has enjoyed every swim class since.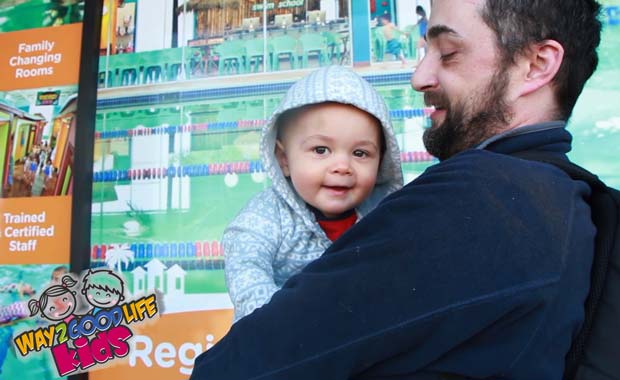 Why Should Kids Learn to Swim?
Not only is swimming fun to do and a great summertime social activity, but it is also a lifesaving one. According to Safekids.org, nearly 800 children in the United States drown each year, half of those under 5. Contrary to what many people believe, drowning is silent and quick. That is why children and parents alike must learn how to swim and also learn how to keep themselves and their loved ones safe around water. 
Swimming classes for babies and children are great for teaching these lessons. When your child goes on to learn how to swim, it is more than just the backstroke or butterfly. Actual water safety lessons can help them build confidence (in water and out) and keep them safe. Swimming is a lifelong skill that can help your child save their life someday. 
I have done a ton of research into the benefits of swimming and swimming lessons for kids, but what I wanted to hear was a real-life experience, and I was lucky enough to get that at my children's swim school. Recently we were given a chance to chat with one of the swim school teachers and ask her some questions about the swimming classes and their benefits:
Do All Babies Love Water?
Not all babies. Not at first. It depends on the child, as some love being in the water while others are not quite as comfortable. However, it changes as time goes on.
Do Babies Even Need Swim Classes? They Can't Even Walk!
They can't walk, but learning near water is an excellent safety skill. I believe that it's also crucial to learn to swim early for a variety of reasons and not have a fear of the water. 
Watching Baby Swimming Class, Who is the Real Student – a Baby or the Parent?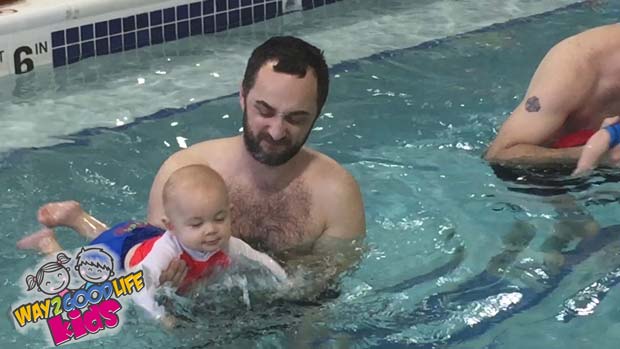 Believe it or not, both! Children learn to be safe around the water parents learn how to take care of their little ones in the water.
How Young is Too Young?
Babies can enroll in a swim class as early as three months. If they can keep their head up, they are ready to go.
What Do Babies Learn In Swimming Classes First?
I want children to learn how to be safe in the water. That's why we use a lot of hand-arm manipulation. We manipulate their arms and their legs. We also sing songs so they know being in the water is good.
Little ones also learn to climb in and out of the pool. My goal is to ensure they do it the safest way possible.
What is the Coolest Baby Move You Can Learn in Swimming Class?
I like to see the parents do the bubble bounce when they hold their thumb or the ring and bounce them all the way down. I love to see the parents go all the way down and come back all tired. It's funny.
If you have a young child at home, it's time to teach them how to swim, and you will have lots of fun together this summer!